A group of women students were sitting on their college grounds in the city of Prayagraj in North India using their mobile smartphones. Some were listening to music and others were engaged in conversation. They often spoke so quietly that their words were inaudible even to the person sitting next to them. I was with one of the students sitting on the bench with her friends, and I asked her, 'Who is the person your friend is talking to in such a low voice?' She replied, 'I don't know, she does not tell us.'
Higher education in India is currently undergoing a historic process of massification and expansion. This is accompanied by greater than ever numbers of women entering higher education institutions. In colleges in urban North India where I did my research, young women were negotiating their personal lives away from parents in new ways, while trying to fulfil their aspirations to obtain secure government employment.
I have undertaken an ethnographic study of a public university and college in Praygrai, Uttar Pradesh, which focuses on the everyday experiences and aspirations of undergraduate women students. Groups of friends sitting together, busy on their mobile phones while chatting with each other, was a common sight in the college where I conducted fieldwork. While I was collecting data for my wider research on Indian students' aspirations and social lives, digitality and its social characteristics emerged as an important aspect of the young women students' everyday experience.
My study involved 107 young women enrolled in traditional undergraduate degrees at a university and college in Prayagraj. They were a mix of day scholars and migrant students. They were 17-20 years of age. The study was conducted between 2017-19, and I spent approximately 12 months in the field with the research participants. Coming from modest economic backgrounds, most were the first in their families to enter higher education, and the first to migrate from their villages and small towns to an educational hub. The migrant students stayed in hostels and other paying guest accommodation, in some cases with their siblings.
I found that digitality enables young women's migration to distant cities for higher education because their families feel they can remain connected and maintain some control, but devices such as mobile phones also give young women a degree of freedom to explore and form relationships away from familial control.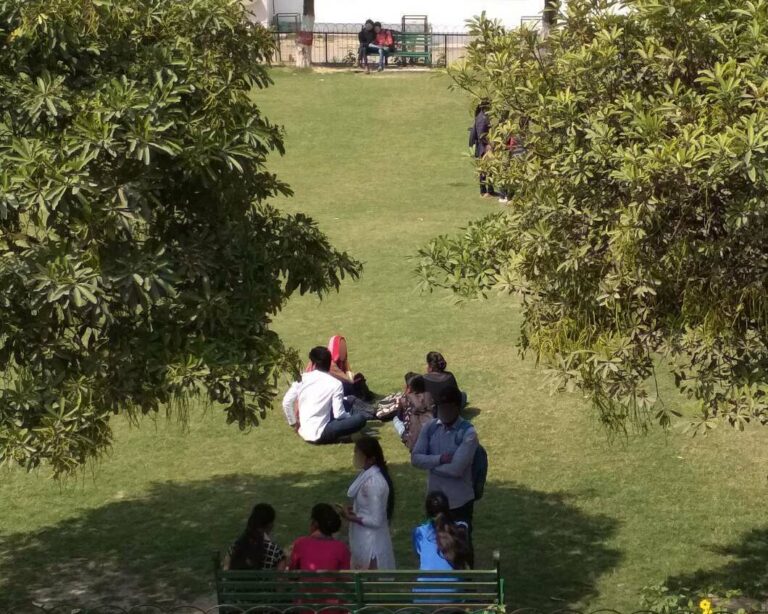 Students in the grounds of a college in India. Credit: Author.
Digital transformation and youth
Mobile phones have become part of the everyday worlds of young people in India, and academic spaces are no exception. It's estimated that there are approximately one billion smartphone users in India.  However, there are inequalities such as gender (women tend to share the use of smartphones rather than be the exclusive owners of them and they therefore use them less); and geographical locations (rural and urban). Research by Asiya Islam and Preeti Manchanda shows that young people are the most dependent on smartphones for internet access, mostly for entertainment and social media.
Ideas of time and space have been transformed in the digital era and digitality plays an important role in transcending young people's immediate physical surroundings. Mobile communication devices, especially mobile smartphones, have also become a medium of self-expression. Social and economic scientist Andrea Kölbel, in a study of young men and women in Nepal maps the changes that technology brings to young people's aspirations and chances of social mobility. These devices have entered the everyday lives of young people and have become a medium to connect with the outside world and new possibilities.
In the Indian context, media and culture researchers Neomi Rao and Laxmi Lingam show that there is a 'moral panic' in relation to young women's use of mobile phones as it might lead them to access content that is not allowed by Indian cultural norms. For example, there have been instances in several states over many years where young unmarried women have been banned from using mobile phones because they might be 'harassed' and to 'safeguard Indian culture'. These bans reflect a fear of women's virtual mobility in the Indian social cultural context of patriarchal control.
Mobile phones are often seen as devices for surveillance. Human geographer Sneha Krishnan, in her qualitative study of college-going women in the Indian city of Chennai,  shows that one of the reasons that families are comfortable with their daughters studying away from home is due to mobile phones. Women students in my research talked to their families regularly by phone and sometimes gave them details of their everyday routine and location. Mobile phones provide families with an easy way to remain connected and to know the whereabouts and routines of young women regardless of proximity.
Despite the ubiquity of mobile phones in India, not all of my research participants had access to them. Among the more than 100 women students in my study, 14 did not have mobile phones. When I enquired as to why, the most frequent explanation was the financial hardship faced by their families. If a family could afford to buy a mobile phone for one child, it was almost invariably for the male child of the family.  One of the interviewees, whose father died a few years ago and who had financial constraints at home, told me, 'I am glad that I do not have a mobile. Male students in college constantly ask for phone numbers on the pretext of sharing class notes. Instead of saying 'no' to sharing my phone number, I simply tell them that I do not have a phone'. Another respondent whose father bought a smartphone for her brother, said 'my brother needs it more than me'.
A glimpse into the students' digital freedoms and restrictions  
Mobile phones were predominantly used for social networking. A group of seven friends would often sit together in the college grounds. One of them would share her smart phone's data download capacity with others, and they all would use their phones while sitting together. At other times, the women would share their mobile phone hotspots with each other so their friends could also use their phones, as not everyone had money to buy internet data packs. The young women used their phones to watch YouTube or Instagram videos (plugged into one ear, used by two friends together), and view movies together in their hostels or other accommodation. This enabled different kinds of sociability, and a sense of collectivity was produced by the combination of physical and virtual practices.
Facebook and WhatsApp played an important role in opening the possibility of conversation with young men who could be prospective boyfriends. A few of the women students met their boyfriends initially through a Facebook friend request which progressed into instant messaging before meeting in person.
I witnessed these young women talking to their boyfriends or video calling them during college hours. Many of the women who still lived at home were not allowed to use passwords on their phones, so that their family members could check their calls and messages. Those who did not have phones used their friends' phones to either call or make missed calls to their boyfriends as a way of checking in.
One such incident concerned a day scholar who came from a financially weaker family, and who did not own a mobile phone. She used a close female friend's phone to talk to her boyfriend and after talking to him she deleted the number. When I asked her why, she said, 'If someone sees an unknown number on [the friend's] phone at her home, she would face problems at home'. All these young women remembered their boyfriend's phone numbers by heart and deleted the number after talking to them. Most of them were not permitted to talk on the phone to boys in their homes.
Digital technology was also used by the women to break-up with their boyfriends. One interviewee said that she changed her mobile phone number because she wanted to end her relationship with her boyfriend who lived in a different city but who was 'very controlling'. Another friend said that she deleted her Facebook account to break up with her boyfriend. Many women had multiple Facebook accounts and sometimes deleted them, mostly because of family pressure but sometimes because they wanted to do so. Instagram was also used, and preferred by some, because 'it is not possible to download pictures from Instagram'.
These activities were overshadowed by the omnipresent fear of gendered reputational risk. Some of the young women had older brothers who forbade them from creating Facebook accounts, or, if they were allowed to have such accounts, they were told not to upload photos of themselves. Many young women followed this practice, as it ensured a degree of anonymity and meant that their images could not be circulated or edited by others, particularly men. Others revealed that they used fake names and photos for their accounts, and only revealed their identities with someone else after a few chats in Messenger. They would text via phone and share photos via WhatsApp during college hours. Surveillance in family homes was intense and the probability of getting caught was high.
Conclusion
In the era of 'Digital India', introduced by the government of Narendra Modi in 2015 with the rhetoric of digital empowerment and social transformation, there remain inequalities in access to mobile devices and online content for young women.
My study shows, in addition, that communications technology is used by families to maintain gendered moral surveillance over their daughters, particularly in the case of migrant women students. But my study also shows that higher education has become a site with emancipatory potential for young women, and access to technology and mobile devices plays an important role. Colleges have become a key locus for such possibility. Mobile phones are a medium for exploration, self-expression and bonding practices among young women, such sharing interest in travel and fashion.
During their time at college, mobile devices enable young women to explore impermissible without familial control in that physical space. It gives them some degree of anonymity in those spaces and visual imagination of farther-away places and things. Having a smartphone provides them with some sense of freedom and virtual mobility over which family does not necessarily have direct control.
This discussion of the narratives of young women students in a city in North India suggests that everyday technologies––in particular smartphones––are the bearers of potential virtual freedom for women students. While remaining a means of surveillance, mobile phone use creates/ allow a level of freedom to the young women.
Main image: Young women students in India using mobile phones. Credit: Author.
Author contact: renuvera@gmail.com.